Miller®

Proportional Gas Mixers:
Efficient. Economical. Precise.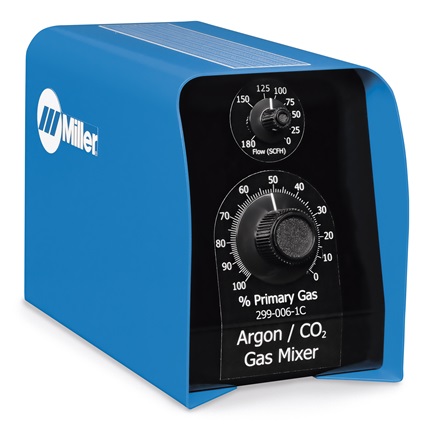 Having a ready supply of proper shielding gas mixtures for all of your frequently used welding processes is essential — but premixed gases are expensive, and require the regular stocking and handling of multiple cylinders.
Miller has a solution: our new line of proportional gas mixers.
Available in models to precisely combine Argon with CO2, Hydrogen, Helium, Nitrogen, O2. Miller proportional gas mixers can help your operation save money, work more efficiently and produce better-quality welds.
We, Supertech Services Pvt Ltd, are the first appointed exclusive distributor for Miller  machines in India since 1999, continue to be a proud Sales and Service distributor of their Welding Equipment, Diesel Engine driven sets, Induction Heating Systems, Torches, and other accessories.
Accurate, on-site shield gas mixing
Various welding processes require different gas mixes for the best results. Miller proportional gas mixers
are accurate and allow custom mixtures for optimal welds.
No stocking/handling of premixed gases
Saves time and money — and reduces the number of cylinders that need to be stored.
Reduces setup time
No need to change cylinders, regulators, flow control devices or hoses when switching from one range of mixed gas to another.
Ideal for education/training
Operators can quickly see the effect of various gas mixtures on weld appearance, quality and penetration.
Easy operation
Simply set the dials for the desired mix and flow. Mixers are mechanical: no electricity is required.
Serves from 1 to 5 welding stations with a single mixer
Delivers accurate mixtures at flows ranging from 10 to 180 SCFH.
Additional Proportional Gas Mixer Advantages :
No gas separation
Premixed gases can separate (stratify) after sitting for long periods of time. Accurate Miller® proportional gas mixers eliminate that risk.
Built-in flow control
Eliminates the need for additional flow control devices when used in single-station applications.
Versatile
Convenient conversion charts printed on the top of the mixer cabinet help guide proper use with other gases.